One day left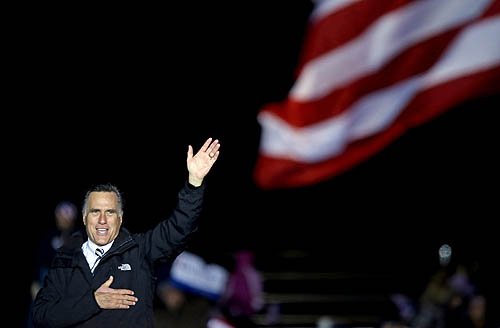 Bill Clinton kicks off his cross-Pennsylvania GOTV drive for Barack Obama a little before lunchtime today in Market Square, where he'll be joined by Democrats Bob Casey, Mark Critz, AFL-CIO president Rich Trumka and others. Mitt Romney (above) did his sendoff in Bucks County last night (Karen Langley's coverage is here). There's a nice NYT story here about Clinton's efforts (and lost voice) these last few days.
Obama's numbers aren't hot in PA12, and Critz's challenger Keith Rothfus makes this note of the rally:
"The truth seems to have finally been acknowledged with one day left in the campaign. Congressman Critz announced last night that he will be spending the morning in Pittsburgh to rally with supporters of President Obama and trying desperately to stop the bleeding of two failing campaigns. This only verifies that with all the talk of being pro-life, pro-gun, and pro-coal, Congressman Critz is truly just another Washington liberal - focused more on his own reelection and alliance with President Obama than fighting for the people of western Pennsylvania."
Casey's opponent Tom Smith is also barnstorming across the state before coming back to Pittsburgh tonight for a rally with Tom Corbett, Pat Toomey, Tim Murphy, D. Raja, Diana Irey Vaughn and Dave Freed. Romney surrogates Rudy Giuliani, former U.S. Sen. Norm Coleman and actor Jon Voight are doing events in NEPa.
In case you missed it, here's the top of Jim O'Toole's big picture look at the presidential race:
Three years ago, on the final day of the Pittsburgh G-20 meeting, a smiling President Barack Obama stood with French President Nicolas Sarkozy and British Prime Minister Gordon Brown at a closing news conference.
Not long after that September 2009 Group of 20 session, Mr. Brown was a private citizen, turned out of office by voters battered by the effects of the world financial crisis that was the centerpiece of the Pittsburgh meeting. Mr. Sarkozy's popularity continued to sink as France's economy sputtered; voters installed a Socialist Party president this year. Japan's Yukio Hatoyama, who threw out the first pitch at a Pirates-Dodgers game that week, would resign as prime minister before the next spring amid his country's lingering economic ills.
In countries including the Netherlands, Ireland, Portugal, Spain and Greece, similar stories played out. Economic ills were a scythe to the ambitions of incumbents throughout the world.
Mr. Obama hopes to escape a similar fate Tuesday. In doing so, he would be the first incumbent president since Franklin Roosevelt in 1936 to be returned amid such a persistently high unemployment rate. This is not the re-election campaign that Mr. Obama, a Democrat, wanted.