Hanger first to announce gov bid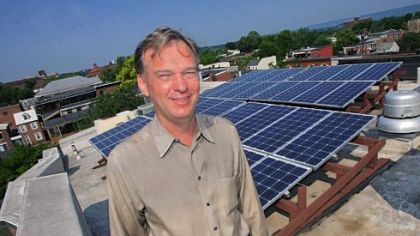 So it begins.
The 2014 gubernatorial race will kick off this week, with former state DEP secretary John Hanger becoming the first of Republican Gov. Tom Corbett's challengers to make their candidacy official.
Hanger, a Harrisburg attorney, has scheduled appearances in Philadelphia and the state capital on Wednesday and an event Thursday morning at Pittsburgh School for the Creative and Performing Arts to talk about his 2014 bid.
He'll also be holding a Dec. 7 reception in New York City, during the annual Pennsylvania Society weekend.
Hanger led the DEP from late 2008 through the end of Gov. Ed Rendell's term in 2011, during a period when Marcellus Shale gas drilling began to take off. He oversaw an increase in drilling permit fees, as well as changes to well-casing standards and procedures for wastewater treatment.
But his prior role as outspoken president of the environmental advocacy group PennFuture meant a tough Senate confirmation, with his DEP nomination languishing until April 2009.
He also was a target in Josh Fox's anti-drilling documentary, "Gasland," in which the activist filmmaker challenges him to drink water from Dimock. He eventually is shown walking out of the interview. (You can read one of his blog posts on Gasland here.)
His background is heavily in the energy and environmental sectors, also serving five years on the state Public Utility Commission.
Who else is on the speculation list?
York businessman Tom Wolf, former U.S. Rep. Joe Sestak of Delaware County, Philadelphia businessman Tom Knox, and state Treasurer Rob McCord all have been mentioned as possible candidates.
Two well-known Democrats -- Rendell and U.S. Sen. Bob Casey -- both told the AP recently that they are not interested.
As for Corbett, he's made several off-hand references to reporters about his re-election or hoped-for second term, but has not officially announced that intention or indicated who will be working on that campaign effort.