Wednesday: Awaiting Corbett Obamacare move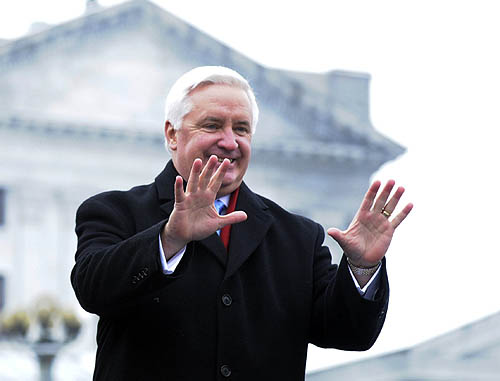 Good Wednesday morning.
Gov. Tom Corbett is saying there's no appetite in Pa for anti-union right-to-work legislation like that approved by GOP lawmakers in Michigan. (John Micek rounds up the guv's remarks here at the Morning Call.) Here's what the state's AFL-CIO leadership has to say:
"There isn't a will for passage because Pennsylvanian's know that unions helped build the middle class in this state," said PA AFL-CIO President Rick Bloomingdale. "Trying to force something like this
through would bring the state government to a grinding halt, just like it did in Wisconsin and Ohio."
"There is no evidence to suggest that passing right to work would encourage companies to move to Pennsylvania," said PA AFL-CIO Secretary-Treasurer Frank Snyder. "States with strong unions perform better across the board, with higher incomes for workers and more access to healthcare."
UPDATE: The National Federation of Independent Business is urging Corbett to pursue the legislation:
"The competition for manufacturing and heavy industry just got a little more intense and we can't let politics hold us back," said NFIB State Director Kevin Shivers. "Pennsylvania relies heavily on manufacturing and industrial companies and we can't let other states get too far out in front of us."
Meanwhile the state awaits his decision on another heavily political matter -- whether Pa will establish its own online health insurance shopping site (aka, health exchange) under Obamacare, or leave the work (and the funding for it) with the federal government. The deadline is Friday, and Corbett is under pressure from the right of his party to opt out -- the argument being that the more states sit on the sidelines, the harder it will be for feds to implement the insurance shopping networks by October of next year.
Not everybody likes Pittsburgh City Councilman (and mayoral hopeful) Bill Peduto's move to honor rapper (and weed-smoker) Wiz Khalifa. Read the comments at the bottom of yesterday's P-G web story for a whiff. Peduto's reply:
"I tell them when I was younger, I was listening to people like Bob Dylan, Johnny Cash, Jerry Garcia and Joe Strummer, all of whom had different issues with substances. If any of them were from Pittsburgh and I was honoring them, I don't think I'd get the same type of reaction."
South of Pittsburgh, Pam Snyder's move to the Legislature to replace imprisoned former Democratic House Speaker Bill DeWeese opened up her spot on the Greene County board of commissioners. The mayor of Waynesburg has been tapped to replace her, reports WJPA radio:
Waynesburg Mayor Blair Zimmerman has been appointed Greene County Commissioner, replacing Pam Snyder, who was elected state representative.
The appointment was announced Tuedsay by the Greene County Court of Common Pleas. Zimmerman will serve the remaining three years of Snyder's term. It was not immediately clear how soon Zimmerman would vacate the mayor's office but anyone interested in the job can send a letter to the borough manager who says the only requirement is the person has lived in the borough for the past year.