On Rooney and Obama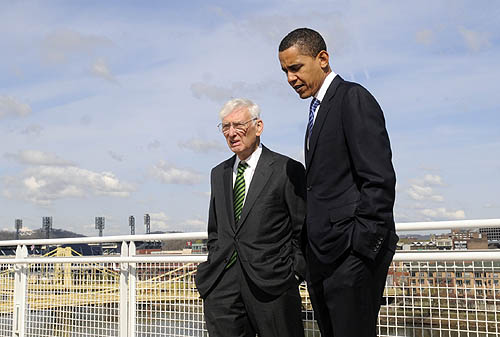 Here's my full story on Dan Rooney resigning as ambassador to Ireland and the op-ed essay he wrote about the experience in today's P-G. Here's the overseas perspective via Irish Central.
Some of the comments about the Rooney-Obama link in our web story last night got kind of rough, which creates all the excuse we need to link to Gene Collier's excellent November 2008 story on their bond:
Jim Rooney did not suspect that night that his father would, over the course of the next 10 months, not only make his way to the deep end of the campaign pool, but ultimately engage in some very public splashing that broiled portions of his usual audience, but he knew from experience how unforgiving and exploitive campaigns could be. An unsuccessful candidate for the state Senate in 2001, the younger Rooney learned firsthand that elections can be too narrowly focused to entertain perspective, much less something so complicated and delicate as legacy.
But on April 14, Dan Rooney's involvement almost accidentally absorbed a fateful inertia, and somewhere inside the David L. Lawrence Convention Center that day, it crossed an invisible point of no return.
"They met at the convention center, at a conference on steel manufacturing, the labor unions, the companies involved; it was very interesting," Jim Rooney said. "Obama was there, and he'd been briefed about my father, but he'd known who he was. At the same time, Hillary [Clinton] was coming in to the convention center, and the campaign managers did not want them to be near the same photo-op, so we ended up getting basically lost, or detoured, around the convention center for 50 minutes.
"The whole time, Obama spoke to my father. I mean meaningful conversations about different things. There was a bond there, and you could see the development of mutual respect. My father really appreciated that. That day, he announced his support."
The embassy in Dublin posted the video tribute below to Rooney: