Guv's grave desecrated - in French?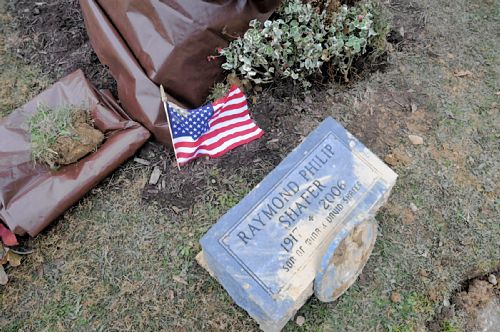 Strangely, vandals in Meadville have desecrated the grave of 1960s Pa Gov. Raymond Shafer, spray-painting weird messages on it in French. Kaitlynn Riely has the story.
Former House Speaker Bill DeWeese, D-Waynesburg, filed an appeal of his corruption conviction. Karen Langley has the story.
The Allegheny County DA's office has responded to Supreme Court Justice Joan Orie Melvin's argument that her public corruption case should be handled by the judiciary not criminal courts. Wrote assistant DA Lawrence Claus (via Paula Ward):
"The commonwealth respectfully submits that no jurist can insulate herself from criminal liability by claiming that alleged criminal activity was an extension of politics and conducted within the physical space given to her by the court," the prosecution wrote. "The commonwealth submits that a judicial chamber is not a sanctuary for criminal behavior."
There was more bitter mayoral-season talk at City Council yesterday in a debate over parking rates, Joe Smydo writes.