Great day for (hockey) headlines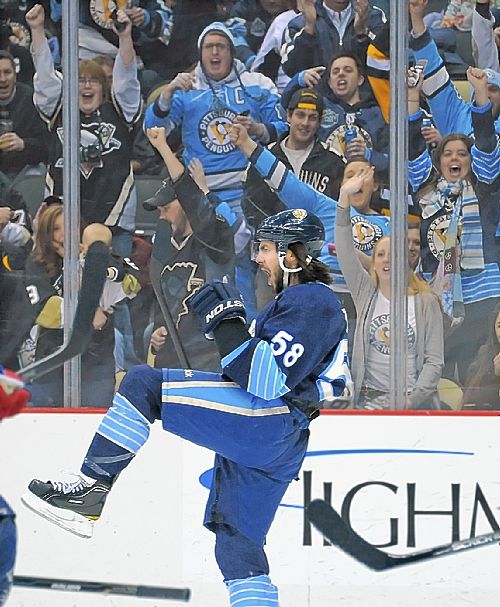 Good morning.
A new audit from Allegheny County Controller Chelsa Wagner shows disorganization in the county's property assessment office, especially when it comes to tax-exempt properties, and points up further tension between Wagner and county exec Rich Fitzgerald. Sean Hamill has the story.
Pittsburgh Police are facing questions after 911 records show they were called to a house in Larimerafter an emergency call Jan. 1 but left without going inside. Later she was shot to death by her boyfriend in a murder-suicide. Ravenstahl administration officials aren't commenting. Liz Navratil and Jon Silver had the scoop yesterday.
The next big voter ID fight will be next-door in West Virginia, where Republicans are seeking to flex their new muscle in state government. I have the story on the rhetoric there being a bit different from up here, due to the state's infamous history of election-related corruption.
How great is the Penguins ownership group? Imagine the Pirates in similar circumstances having the wherewithal and PR sense to release the statement below:
To our Penguins Fans and Community:
We offer our apology. There is nothing we can say to explain or excuse what has happened over the past four months.
However, now that the NHL is back, we want to assure you that the Pittsburgh Penguins will do everything we can to regain your trust and show how much we value your amazing support.
The sounds of skates churning across the ice and pucks banging against the glass are returning to CONSOL Energy Center. That means a healthy Sidney Crosby is about to rejoin NHL MVP Evgeni Malkin, first-team All-Star James Neal, Marc-Andre Fleury, Kris Letang, Brooks Orpik and others as we begin our quest to bring the Stanley Cup back to Pittsburgh.
We want to thank you for your patience and your loyalty to the Penguins. We hope to repay it many times over. Our commitment to winning the Stanley Cup and our commitment to you has not changed.
We look forward to seeing you at CONSOL Energy Center.