Breakfast Sausage: 5 stories to read this morning
Happy Monday Early Returners! Hope you enjoyed your St. Patrick's Day. Here's a handful of links to start your week.
1. The Steubenville, Ohio rape case that drew international attention came to a close Sunday morning, when a judge held two star football players responsible in juvenile court of raping another young woman. Molly Born and Alex Zimmerman have the story from just across the stateline here.
2. I know St. Patrick's Day is over, but here's a different kind of holiday piece. Former Post-Gazette reporter Pamela R. Winnick writes about Jews in Ireland.
3. Today is the birthday of the landmark U.S. Supreme Court case Gideon v. Wainwright, which established the right of counsel. If you've ever found yourself in an austerely furnished cinderblock room with a two-way mirror and a police officer and said "I want my lawyer," give thanks to Clarence Earl Gideon. (Most of my knowledge of how police interrogations work comes from Law & Order.) Paul Reed Ward's story is here.
4. Maria Sciullo has the latest on the Pittsburgh mayor's race., with coverage of Sunday's debate. State Sen. Jim Ferlo is out, but A.J. Richardson, a heavily tatooed school bus monitor, is in. Just how crowded is the field? Here's the candidates trying to squeeze into a photo.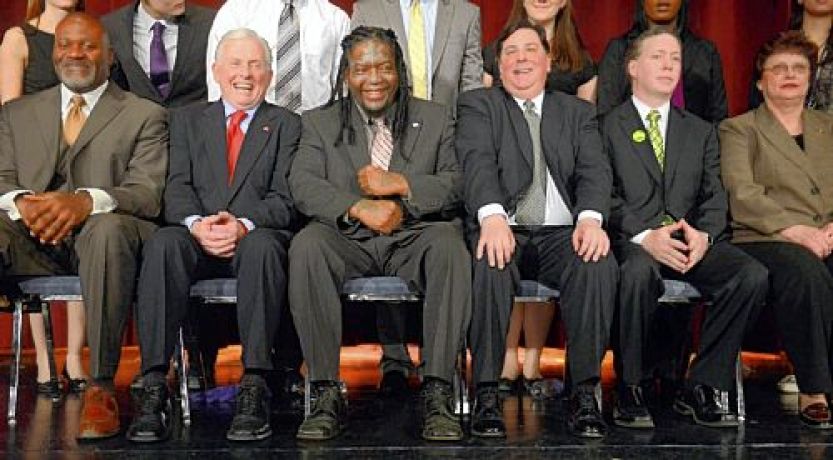 5. Rich Lord published his first dispatch this morning from federal court, where former Pittsburgh police Chief Nate Harper is a defendant in a civil case. Jarret Fate of Squirrel Hill sued the city and Mr. Harper after a detective, who has since been fired, choked him and vandalized his car. How does it relate to Mr. Harper? Mr. Fate's attorney explains:
"If the people at the top are breaking the rules, if the people at the top are going around hurting innocent people, then we should probably expect the people underneath them to do it," Mr. Autry said. "From top to bottom, there is a problem in the police department, and that problem is use of force, not only against bad people, but against innocent people like Jarret Fate."