Mayor Luke vs. UPMC: The Showdown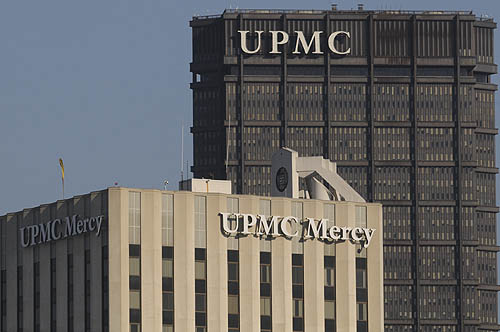 Mayor Luke Ravenstahl is taking on UPMC, filing challenges on the health care giant's non-profit status in both court and the county Office of Property Assessment.
Flanked by city controller Michael Lamb (running for mayor), city council president Darlene Harris (running for mayor) and Allegheny County Controller Chelsa Wagner (uncle running for mayor), he had plenty to say about the region's largest employer.
"They're not a charity," the mayor said at a press conference today. "They haven't been operating as a charity and it's time that this community step up in that regard. The reality of the situation is the taxpayers ... are currently subsidizing UPMC's non-profit status."
Zinger time:
"Is UPMC acting as a purely public charity?" Mr. Ravenstahl asked. "In my opinion, it doesn't even pass the smell test."
Bold. Not having to run for re-election will do that for you.
More after the jump.
Statement from Amie Downs, spokeswoman to Allegheny County executive Rich Fitzgerald:
"It would be inappropriate for us to comment on the City of Pittsburgh's announcement because Allegheny County is currently conducting a review of over 2,800 parcels that are currently exempt as Institutions of Purely Public Charity, including those owned by UPMC. Our focus remains on that process, begun over a month ago, which is intended to make certain that all property owners are paying their fair share of taxes. We will make decisions on these exemptions based on the facts presented to us and the law that governs tax exempt status."
Statement from Chelsa Wagner (though she already spoke at the mayor's press conference:

"This is about fairness for the average Pittsburgh citizen and small business owner, who shoulder a greater burden of taxation for those organizations who receive the privilege of a property tax exemption. They deserve to know that all organizations are paying their fair share and truly deserve their tax exemptions."