Toomey eyed on guns, gay marriage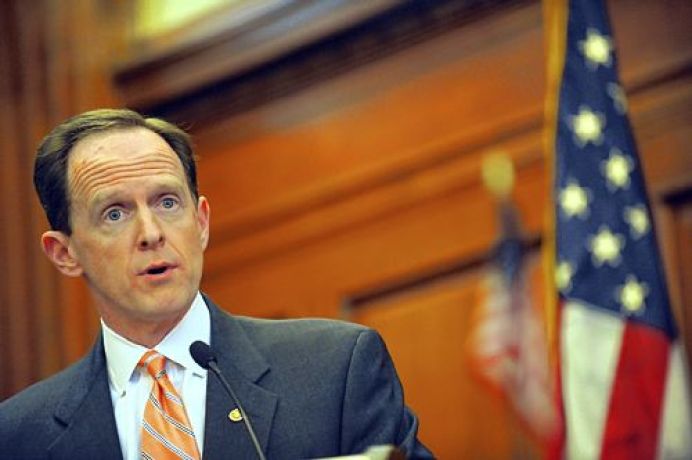 US Sen. Pat Toomey -- a fiscal conservative and Tea Party favorite -- is named in two national stories today as a GOP target for crossover on major cultural/constitutional issues.
Poltico reports West Virginia's Joe Manchin is quietly sharing proposals for universal background checks on gun purchases with his Pa counterpart. Manchin (who shot a rifle in a campaign ad) and Toomey ("My idea of gun control is a steady aim") are both heavy NRA supporters but so is Bob Casey: Casey changed course on gun law after the December massacre of 20 elementary school children in Newtown, Conn.
Casey, a moderate Democrat, this week also changed course on gay marriage. The WashPost Fix blog today lists six GOP senators who might also come out in favor, rating Toomey the fifth most likely (after Lisa Murkowski, Susan Collins, Richard Burr and Kelly Ayotte). Writes Sean Sullivan:
5) Sen. Pat Toomey (R-Pa.): Toomey wasn't in the Senate for the DADT vote, but he expressed support for repeal as senator-elect. Like many of the names on this list, he comes from a state carried twice by Obama. "Senator Toomey believes that the tradition of marriage is sacred and is best defined as between a man and a woman. He does realize that there are many Americans who feel strongly about this issue and support marriage for same-sex couples. The input of Pennsylvanians is therefore valued when Congress reviews legislation addressing same-sex marriage," said a Toomey spokesperson.
So what do Pennsylvanians say? A Public Policy Polling survey last month found 47% of state voters oppose legalization of same-sex marriage to 45% in favor -- a jump of 14 points in favor of legalization from a survey 18 months earlier.
In January a Quinnipiac poll found 95% of the state's voters approved of gun-buyer background checks, which may be one of the reasons Michael Bloomberg's Mayors Against Illegal Guns is targeting Toomey and other Pa legislators with ads in the state.