Your cue, Sen. Toomey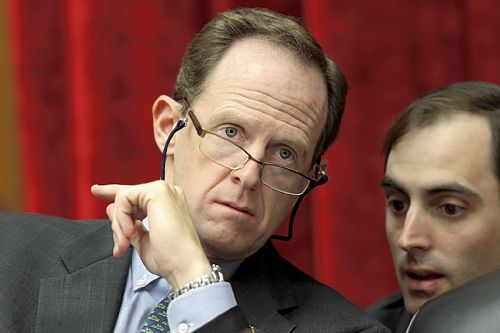 The national spotlight will be on freshman U.S. Sen. Pat Toomey more brightly today than at any time in his two years in office, even more so than his time on the debt supercommittee in 2011.
The same could be said for West Virginia's Joe Manchin, the Democrat joining with Toomey to unveil their gun sales background check bill later this morning.
Details are leaking out on the proposal, with the Times saying it would cover online gun sales for the first time and Politico noting it would close the gun show loophole but not person-to-person sales. Democratic supporters would have to pick off about nine extra Republicans besides Toomey to get the deal passed, which could be a heavy lift.
CNN Live is scheduled to carry their 11 a.m. presser online.
UPDATE: The NRA released this the moment the presser ended:
Fairfax, Va. - Expanding background checks at gun shows will not prevent the next shooting, will not solve violent crime and will not keep our kids safe in schools. While the overwhelming rejection of President Obama and Mayor Bloomberg's "universal" background check agenda is a positive development, we have a broken mental health system that is not going to be fixed with more background checks at gun shows. The sad truth is that no background check would have prevented the tragedies in Newtown, Aurora or Tucson. We need a serious and meaningful solution that addresses crime in cities like Chicago, addresses mental health deficiencies, while at the same time protecting the rights of those of us who are not a danger to anyone. President Obama should be as committed to dealing with the gang problem that is tormenting honest people in his hometown as he is to blaming law-abiding gun owners for the acts of psychopathic murderers.