Burgess endorses Wagner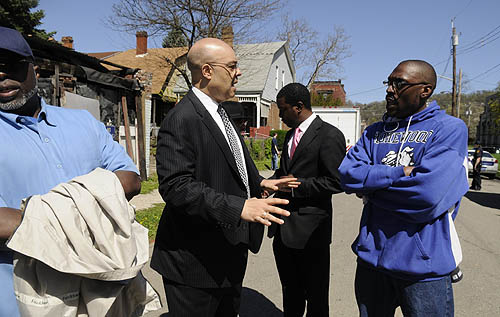 Following in the footsteps of Jim Ferlo, the firefighters union and other former Ravenstahl reelection supporters, another Ravenstahl ally -- City Council finance chair Ricky Burgess (above, middle)-- is endorsing Jack Wagner for mayor.
Said the Homewood man:
The very life and soul of Pittsburgh is made possible by our communities—those places we call home. Whether they are poor or rich, unsafe or secure, Black or White, none of those communities are more important or less prized than the others. Unfortunately, there are some politicians, and would be politicians, who believe our city has communities that should be given away.
Today, I formally announce my endorsement of Jack Wagner's candidacy for Mayor of Pittsburgh. Jack is the only candidate who has the experience, personal commitment, honesty and leadership needed to assure that all communities participate fully in Pittsburgh's prosperity.
Rev. Burgess may also be Wagner's most prominent black supporter. Mayoral rival and state Rep. Jake Wheatley of the Hill District has been targeting Homewood and adjacent communities for African-American votes and his fellow Rep. from Lincoln-Lemington, Ed Gainey, is supporting the other major candidate in the Democratic race, Councilman Bill Peduto.