Finding mayoral differences, one week out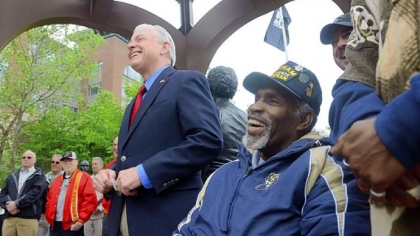 One week to go.
In case you missed it Jim O'Toole had a story Sunday on the small policy differences among the three major Democratic candidates for the Pittsburgh mayor's job.
On key issues such as municipal finance and reform of the scandal-battered police department, the differences among them amount to nuances rather than dramatic, polarizing fissures.
In one sense, that's not surprising. They're all Democrats. And the three leading contenders have first-hand experience with the practical realities of politics on the fifth floor of the City-County Building where council and mayoral offices line opposite hallways.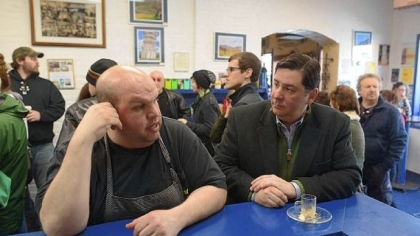 In the same paper I trailed Jack Wagner and Bill Peduto for a few hours (I failed to meet up with Jake Wheatley despite two attempts) and found them trying to appeal to core voters. Wagner met with fellow veterans in a bid to cold-call 10,000 military voters and their families over the next week. The Peduto team is taking a different, more targeted tack:
After attending a Mother's Day rally against gun violence at a Baptist church in East Liberty and a street fair in Friendship, he and a campaign staffer scrambled across the city to Carrick to knock on prospective voter doors. But not just any doors: Ten days away from an election is a bit late to start courting all voters, so his campaign had lists of addresses known to be either supporting him or undecided. Even though most houses on hilly Kirk Avenue are owned by Democrats, if they were judged to be firmly supporting Wagner or Wheatley, their doors were skipped.
The primary is expected to be a close one and Mr. Peduto, 48, underscored that in his messages to voters, urging them to call him personally if they had questions about attacks on his record aired in commercials by Mr. Ravenstahl and Mr. Wagner.
"All this stuff on TV is the goofiness of politics," he told a young mother of four. "Give me a chance to address it. All of it is factually incorrect."
Photos, top to bottom: Jack Wagner and vets/Rebecca Droke. Bill Peduto in Strip District/Michael Henninger. Jake Wheatley at mayoral forum/Julia Rendleman.