More on Dowd replacements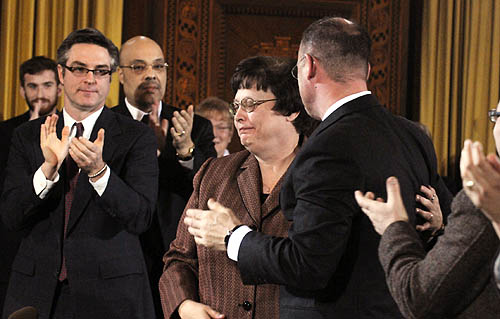 Candidates are emerging for the two years left on Patrick Dowd's now-vacant Pittsburgh City Council seat. From Jim O'Toole's story today:
Paul McKrell, a senior aide with the Ravenstahl administration, reaffirmed his interest in running for the Democratic nomination. Some supporters of Democratic mayoral nominee Bill Peduto are lining up behind Highland Park resident Deborah Gross, the former executive director of the Greater Pittsburgh Arts Alliance.
Mr. Peduto has not taken a public position on the still-evolving race.
Rita Turpin, a recent graduate of Duquesne University Law School, also plans to seek the Democratic nomination. Ms. Turpin is the daughter of Vanessa Turpin, the Democratic chair of the 8th Ward, which is dominated by Bloomfield.
Anthony Ceoffe, the Democratic chairman of the 6th Ward, which includes Polish Hill, said several weeks ago that he, too, was interested in the seat, which he unsuccessfully sought in a race against Mr. Dowd in 2011.
Remember: council votes again in January on council president and Dowd likely would have voted against retaining Darlene Harris, who is a critic of likely mayor Bill Peduto. Whoever wins the special election could swing the council presidency either toward Harris or a Peduto ally such as Bruce Kraus. According to the Comet, her five votes (besides her own) in 2012 came from Dowd, Burgess, Kail-Smith, Lavelle and O'Connor -- so the Dowd replacement and O'Connor votes look to be the key ones come January.
Fights over the council presidency largely matter to those inside Council Chambers and don't mean all that much to city residents (except when they rise to mayor after a vacancy) . . . but they do affect the tenor of relations between city council and the mayor. The year after he lost his first primary battle against Tom Murphy in 1997, Bob O'Connor was surprisingly elected council prez in a vote (engineered by Jim Ferlo) that presaged bitterness between Murphy and a bloc of O'Connor votes until the next mayor's race in 2001 (which Murphy just barely won).
Another thing to consider: the larger the field, the better it may be for the candidate endorsed by the Democratic committee. Using it, Len Bodack Jr. squeaked by with a special election win in the same district (after it was vacated by Ferlo) ten years ago in a six-candidate field.