Pablum for Permissiveness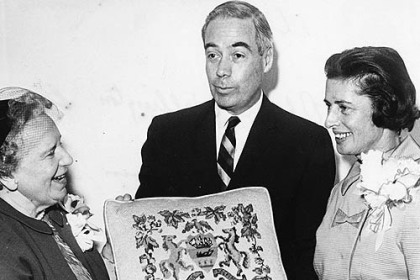 I was working all day yesterday on an A1 obituary on former Pa Gov. Bill Scranton, pictured above at the 20th Century Club in Oakland in 1965. Here's a part that I thought was interesting (though the man's whole long life was interesting):
The assassination of Mr. Kennedy 10 months into Mr. Scranton's term and the ascendency of conservative Arizona Sen. Barry Goldwater within the GOP drew Mr. Scranton into a late and bitterly contested bid for the party's presidential nomination in 1964. He would never fully recover politically and by 1966 stated he would never run for public office again.
He was still pressed repeatedly back into public service -- including 10 months as ambassador to the United Nations -- where his demeanor did not change.
After Ohio National Guardsmen fatally shot four students at a Kent State protest in May 1970 and another student shooting followed at Jackson State University in Mississippi, President Richard Nixon asked Mr. Scranton to chair a nine-member Commission on Campus Unrest. He issued a report to the White House saying the Kent State shooting was unjustified, which Nixon hated. Vice President Spiro T. Agnew called it "pablum for permissiveness."
"Those were the times," Bill Scranton III said Monday, recounting his father's report. "He was a man of integrity and would say what he thought."