Corbett advisor: Same salary, no commute
Back on May 31, when Ron Tomalis relinquished his role as state Education Secretary, he assumed a newly established Corbett administration post as special advisor on higher education issues.
In that new job, Mr. Tomalis, who made $139,931 a year as secretary, kept his six-figure salary. But he apparently shed his daily commute.
Inquiries Friday and Monday to Corbett spokesman Kevin Harley and to the Education Department did not yield the location where Mr. Tomalis works. Today, Education Department spokesman Tim Eller said the former secretary who reports to the governor "works remotely and comes to the Capitol as needed."
Mr. Eller's e-mail did not specify the location, nor did he immediately answer a follow up note asking what the location is.
Attempts to reach the former secretary by phone at his Camp Hill home were not successful.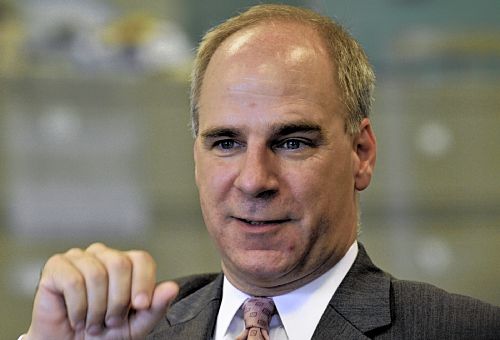 Mr. Tomalis' name surfaced last week in the search for a new chancellor for the State System of Higher Education, which oversees Pennsylvania's 14 state-owned universities with an enrollment of almost 115,000 students. The Patriot News of Harrisburg, citing four unnamed sources, reported Thursday that Mr. Tomalis is one of three finalists for the $327,500-a-year job as chancellor.
Kenn Marshall, a State System spokesman, told the Post-Gazette this week he could not confirm identities of any finalists. Typically, finalists for State System university presidencies are made public, but when asked why the chancellor finalists will remain secret, Mr. Marshall said leaders believe they can get a stronger pool of chancellor candidates if secrecy is maintained until the selection.
In May, Corbett administration officials said Mr. Tomalis' new responsibilities as advisor would be implementing and reviewing recommendations made by the Governor's Postsecondary Advisory Commission. The place where many of those post-secondary recommendations would likely be implemented is on the 14 State System schools.
While secretary, Mr. Tomalis became the face for Corbett administration budget cuts and policy positions that often put him at odds with traditional public school officials.
Mr. Tomalis supported choice in education, such as charter schools, cyber charter schools and vouchers for private school tuition, views that further alienated him from public school officials.
In its report last week, The Patriot News noted that some skeptics wondered if replacing Mr. Tomalis as secretary was intended by the governor to remove a potential conflict had Mr. Tomalis moved directly to the chancellor's office. As education secretary, Mr. Tomalis was a member on the State System's board of governors.
The State System search began after then Chancellor John Cavanaugh announced his intention to resign at the end of February to head a group that supports colleges and universities in the Washington, D.C., area. He served as chancellor since 2008.