Introducing Erin McClelland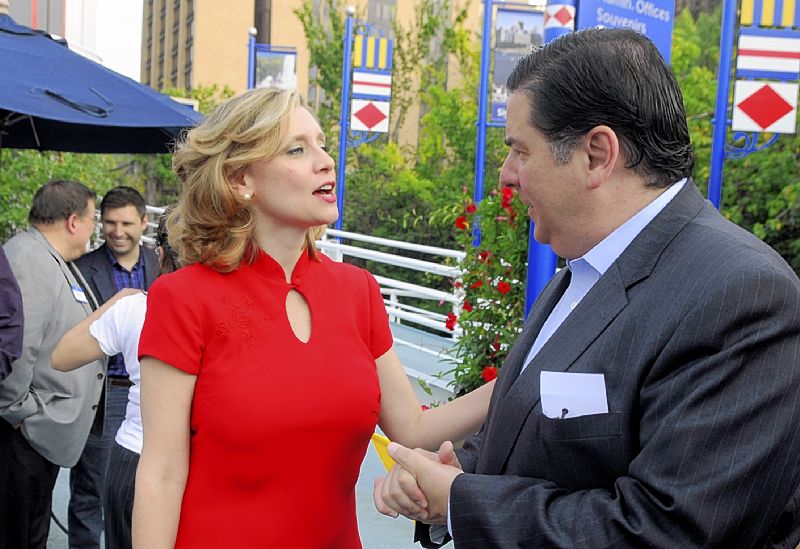 If Erin McClelland is getting bombarded with attack ads around this time next year, it will be great news for her.
If the ads rain down in 2014 as they did against PA12 Democrat Mark Critz in 2012, it will mean US Rep. Keith Rothfus will again have a battle on his hands, after winning Pa's most competitive congressional race last time around. If the airwaves are silent it will mean the freshman Tea Party favorite has his reelection in the bag.
McClelland is a political neophyte and has a long way to go. Now that Critz has announced he won't try to run again for his old seat, I have a story introducing the New Kensington woman to P-G readers, which for outsider insight leans on Kyle Kondik of the University of Virginia Center for Politics. Kyle isn't an outsider to Western Pa/rust belt politics though -- he's from Cleveland, went to the University of Ohio in Athens and his first job was at a newspaper 90 miles west of Pittsburgh in New Philadelphia. He's also the House editor for the center's "Sabato's Crystal Ball" newsletter.
He had so many interesting things to say -- on why analyists liked Critz as a candidate and see the seat going Rothfus's way, while saying there could be backlash against the Republican's very conservative voting record -- that I wanted to share them here mostly in full:
If Critz had entered the race, we probably would have moved the race to a more competitive rating category. Critz has shown himself to be a pretty good candidate, and he ran good races in tough climates in 2010 and 2012, though he just didn't have enough to get over the finish line in 2012. Sabato's Crystal Ball, our newsletter, has it rated as "likely Republican" – meaning that it's not "safe" for Rothfus, but he's in a good position. It's one of the 75 or so U.S. House seats that could be competitive in the fall, although there are many seats on both sides that are more obviously in play at this point.
I've seen McClelland's name, but I don't know a ton about her. It's going to take a moderate-conservative kind of Democrat to win that seat . . . Appalachia strikes me, generically, as kind of economically populist and socially conservative area. That's been the style of Democrats from this region. I think that's why Critz, even as a Democrat when the label carries baggage in that region because of Obama, performed well in the district. I have little doubt he would have given Rothfus a very tough race.
Another question is whether Rothfus, who is a darling of the economically conservative Club for Growth, has a voting record that fits the district. I guess we're going to find out. Just because an area is trending Republican in the age of Obama doesn't also mean that it's going to necessarily fall in love with supply-side economics. I think the region's Republican shift is cultural, although I also think that coal is an economic piece of that cultural shift, if that makes sense. It'll be interesting to see if Democrats rebound to some degree in the region after Obama leaves the scene, although that depends a lot on what Democrat comes after her. If this were 2016 and Hillary Clinton were the Democratic presidential nominee, I suspect that Critz might've decided to take another crack at the seat.
One other note -- GOP redistricting continues to pay dividends in this district.
Forced to cut one of the state's 19 congressional seats after the 2010 census Republican mapmakers placed Critz and Jason Altmire into the same district, smushing Altmire's communities in Beaver and Allegheny with the Critz/Jack Murtha homebase in Cambria/Somerset (with parts of Westmoreland in between). "The winner is already known in the Democratic primary between incumbent U.S. Reps. Jason Altmire and Mark Critz. It's the Republican Party," I wrote back then.
The mapmakers also moved Mike Doyle's Pittsburgh/Mon Valley district up the Allegheny River to gobble up Democratic towns in the Alle-Kiski Valley -- including New Kensington, where McClelland lives, putting her into PA14. Though she is not required to do so by law, she plans to move into the PA12 borders in Natrona Heights. (Rothfus did the same thing in 2012, moving from Edgeworth in PA18 into Sewickley.)
Photo: Bill Wade/Post-Gazette Erin McClelland, left, talks last week with Bill Peduto, Democratic nominee for mayor of Pittsburgh, at the annual Bob O'Connor Cookie Cruise.