Breakfast Sausage: 5 stories to read this morning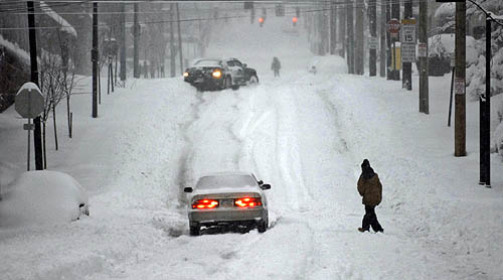 Beware the Ides of December, Early Returners! Farmer's Almanac warns that, yes, this winter might just be the one that wipes Pittsburgh off the map.
(And on Super Bowl Sunday, no less.)
1. But no such worries for in-and-out Pa. education secretary nominee William Harner, whose nomination was pulled yesterday after sources say the Corbett administration learned of a few off-color comments he made while superintendant of Cumberland Valley School District. In one instance, he supposedly asked a male colleague how he looked in a Speedo. Vacation, all he ever wanted!
2. Hospitals say a provision of Obamacare could put medical facilities on the hook for a patient's bills if they stop paying their insurance premiums. (Not quite sure how that's different from the current situation...)
3. Some liquor stores in Pennsylvania will now stay open until 10 p.m., perhaps a last-ditch effort to throw legislators off the privatization scent when they come back to work in September.

4. Black community leaders want Allegheny County to commit to an amped-up version of the Rooney Rule, which requires NFL franchises to interview black candidates for senior positions. The Black Political Empowerment Project says the county should apply the same standard to all its hires and bid awards.

5. Pitt has thrown in the (fair-wage-produced, one hopes) towel and agreed to sign up with the Worker Rights Consortium, an independent group that monitors working conditions at factories producing licensed apparel. United Students Against Sweatshops had made similar inroads at Penn State through some creative protests.