Breakfast Sausage: Five stories to read this morning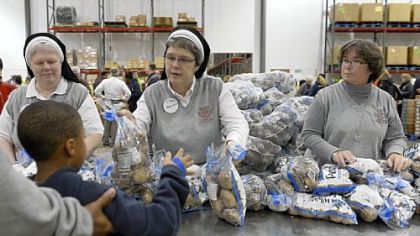 Good morning, Early Returns and happy football Monday. Are you ready for some ... great journalism?!
1. From Sunday, a Bloomberg News story on a proposal from House Republicans to cut millions in food aid, tightening eligibility to ensure "people who are able-bodied and capable of getting a job" aren't receiving benefits, said Rep. Steve King, a Republican from Iowa. But food banks said they won't be able to pick up the slack for those who get kicked off of food stamps under the reforms. (Above, a photo of the Greater Pittsburgh Food Bank from last year.)
2. The troubled Wilkinsburg School District, which is on the state's financial watch list and recently took out a $3 million loan, took administrators on a professional development retreat in Nemacolin that cost about $1,000 a person, Eleanor Chute reports.
3. One man's trash is another man's ... federal grand jury inquiry? Investigative reporter Jonathan Silver broke the story Saturday that a federal grand jury sought information on municipal garbage collection.
4. The Capitol portrait gallery in Harrisburg still contains the visages of those who left the state house for the big house, writes Kate Giammarise. That includes Bill DeWeese and John Perzel.

5. A neat features from Gretchen McKay on the spectacular former Kinzua Bridge, a one-time industrial marvel that was destroyed by a tornado. Now, a refurbished pedestrian walkway gives visitors incredible views of the forest below.