Brunch Sausage: Five stories to read this afternoon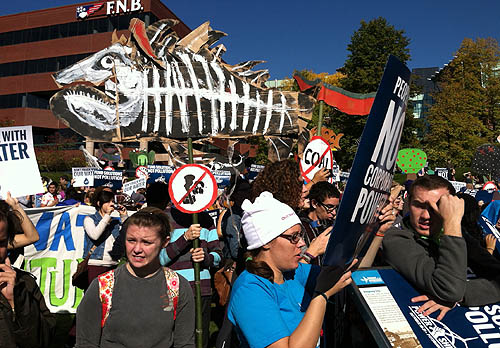 Good afternoon, Early Returners.
1. It was G20 all over again, only without the riot police. (Or just less of them.) More than 1,000 youth activists marched through Pittsburgh Monday, advocating for clean energy and lobbing insults at Consol Energy and PNC. A few broke off to stage a sit-in at Allegheny County Executive Rich Fitzgerald's office.
2. Interesting play by the Pittsburgh Foundation to counter city patronage: Presumptive mayor Bill Peduto has endorsed a foundation-sponsored website seeking job applicants for senior staff positions.
3. UPMC, Pennsylvania's "largest employer," apparently has no employees. Who knew?
4. PoliticsPA has a post on 13 interesting Pennsylvania races to watch, namechecking the Pittsburgh mayor "race."
5. Hidden in this story about a new hotel in Allentown is an LOL moment where Gov. Tom Corbett had to praise the work of Allentown Mayor Ed Pawlowski, who is running against him next year.