Daily Santorum 4/27/11
Naked came I out of my mother's womb, and naked shall I return thither: the Lord gave, and the Lord hath taken away; blessed be the name of the Lord.
Rick Santorum is a Job-like figure, right? Takes a pummelling, but keeps getting up. (If we had Chuck McCullough's software, this would be playing Chumbawamba right now.) But the Lord dost haveth a plan for his GOP presidential flock, even if He can't really make his mind up -- Haley Barbour gets out, but at the same time Ron Paul gets in. But where does that leave our guy?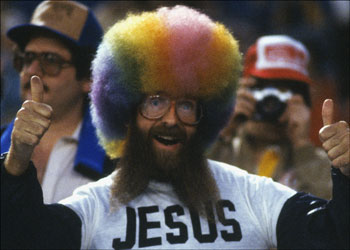 We thought Barbour getting out helps RS with a natural Southern evangelical constituency. But what do we know? Polls show Mike Huckabee is really The Man in South Carolina and none other than Nate Silver says the Barbour bow-out helps him the most (if he actually gets in). Monday's SC poll placed RS at exactly 1%.
As the prophet said, Yoi and Double Yoi. Paul will suck a lot of attention out of the room, too, including from us at the Parochial-Gazette, since he's a Pgh native (Dan Malloy has already volunteered to write a new Daily Paul feature, to be written with the help of Olde English befitting the new Camelot).
Speaking of the room, the one at the May 5 South Carolina debate is looking pretty small. The LA Times reports the Fox News confab only has two people in it currently, with Santorum among those still on the sidelines. (That doesn't keep him from using Fox to fundraise.)
And what of Huckabee? Howard Kurtz says Fox is giving him a deadline as close as next week to decide whether he's in or out of the race.
Schedule: Back in Iowa for a second straight day (where the Inky's Tom Fitzgerald filed this.)
Photo: Getty/ESPN. The Rainbow Man at the '82 World Series.
Join the conversation: