Horse racing the 19th Ward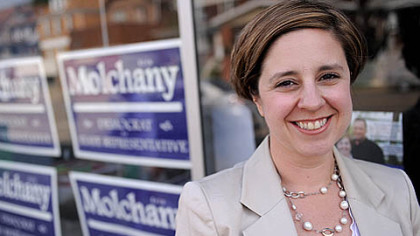 I had a story in Sunday's paper looking at the three women (Chelsa Wagner, Natalia Rudiak and Erin Molchany) all set to be running things from the city's politically-rough South Hills. It mentions sausage sandwiches; the wife of former councilman Jim Motznik possibly challenging Rudiak next year; a hip Brookline coffeehouse; and has the old-school quote below from 19th Ward chair Pete Wagner (and one from Molchany campaign manager Matt Merriman-Preston):
"[Molchany] beat a three-legged horse in the Kentucky Derby. Marty is a great guy, but let's face it, he was tainted going in," said Mr. Wagner, who is Ms. Wagner's father and brother of state Auditor General Jack Wagner.
Matt Merriman-Preston was campaign manager for Ms. Molchany and Ms. Rudiak and for Ms. Wagner in her first House run in 2006. He also is tied to city Councilman Bill Peduto, a likely mayoral candidate next year. He sees Ms. Molchany's victory not as a reflection of changes in the South Hills but rather in the structure of politics citywide, where there are vestiges still of the once all-powerful Democratic Party machine.
"It's people all over the city ready for a more bottom-up approach to electing their representatives -- and the top-down approach, people don't see the benefit of that," he said in an interview alongside Ms. Molchany at Brookline's hip Cannon Coffee shop. Asked what he meant by "top down," he replied: "The ward boss model."
Join the conversation: