Corbett's drum circle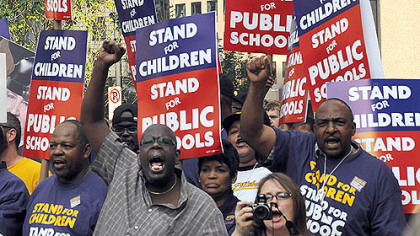 Fighting over Gov. Tom Corbett's budget continues today, with 11 protesters arrested this morning outside the governor's Pittsburgh office Downtown and 14 arrested on Broad Street in Philadelphia.
The governor's office continued its in-your-face responses to the education funding protests as well, not only repeating that cuts were due to lost federal stimulus funds and the state's basic education spending remains high, but now adding a shot at the media too. "Political opponents of the governor will cling to this myth of a $1 billion cut so long as the media goes along with the fiction," ends the statement sent to reporters today.
From the non-fiction stacks of the Post-Gazette library, here's a graf from Mary Niederberger's look at state budget funding two weeks ago:
[Corbett's budget] essentially holds the line on basic education funding to school districts. However, the governor has proposed the elimination of $100 million in accountability block grants, which some districts use to fund full-day kindergarten and the Pittsburgh Public Schools use to fund Pre-K programs. It also maintains the elimination of reimbursement for charter school tuition, a major reduction first enacted last year.
When the head of Pittsburgh Filmmakers Charlie Humphrey resigned last week in a matter related to the same cuts, the governor's pugnacious spokesman Kevin Harley said Humphrey has the luxury of resigning since he "pays himself a six-figure salary from his nonprofit arts organization." That in turn prompted a classic retort from Pittsburgh City Paper editor (and Corbett critic) Chris Potter in a column today:
It's true: Humphrey earns more than $130,000 a year, according to Filmmakers' records. And while quitting an unpaid board position is a luxury anyone can afford, it's a nice change of pace to see Republicans objecting to six-figure salaries. I look forward to seeing Tom Corbett at a future drum circle.
Join the conversation: