Ed and Midge Rendell separate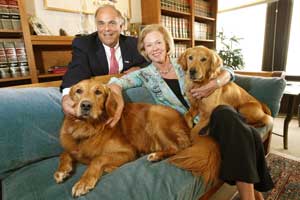 The Daily News has confirmed that Ed Rendell and his wife Midge, a federal judge, have separated after nearly 40 years of marriage.
They notifed friends via email. From the DN:
"Dear friends, we wanted to let you know that we have decided to embark upon this next phase of our lives by living separately," the e-mail said. "This has been a difficult decision, but we both believe it is the right thing to do. Our parting is amicable, and we will remain friends and continue to be active in our community, sometimes together, sometimes separately."
The couple asks for their friends to "respect our privacy, and our decision, and wish us well."
It is signed "Ed and Midge," with this postscript: "Please do not hesitate to include both of us in social occasions as we will not find it awkward or uncomfortable."
Midge Rendell, 64, is a judge on the U.S. Court of Appeals for the Third Circuit. She and Rendell, 67, married in 1971, have one son, Jesse, who practices law in Philadelphia.
Their e-mail makes no mention of divorce or the cause for the split. But Rendell has long been the subject of speculation involving younger women, typically leggy blonds. Rendell most recently turned heads last May when he arrived at a typical Election Day lunch at the Famous 4th Street Deli with Dr. Kirstin Snow, a state employee and former Miss Pennsylvania.
Coming just three weeks since leaving the governor's mansion, the announcement caps a flood of changes for Mr. Rendell -- who has started writing a sports column, consulting to an investment bank, becoming a talking head for NBC/MSNBC and rejoining his old law firm. As the Daily News notes, the announcement inevitably dredges up past speculation about the the guv and younger "leggy blondes." Much of that was aired last June, in stories about his spending time with Kirstin Snow, a state employee and former Miss Pennsylvania. He publicly denied having an affair.
Join the conversation: