Henry: Police to ask Obama for I.D.?
Post-Gazette columnist Reg Henry -- an Australia native and naturalized U.S. citizen -- goes after Daryl Metcalfe's Arizona-style anti-immigration bill in today's paper (and praises the Ariz Republic front-page editorial at right):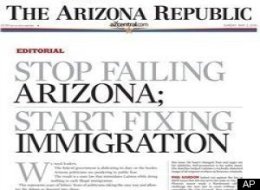 Illegal immigrants are about as rare as hen's teeth in Mr. Metcalfe's own district, but no matter. He is currently seeking to become the Republican nominee for lieutenant governor, and no doubt sensible Republicans are flocking to chiropractors because they have hurt their backs cringing in embarrassment.
Unfortunately, his antics now pose a threat to people like me. Twenty-two years ago this week, I became an American citizen at a naturalization ceremony in the federal courthouse in Pittsburgh.
Having promised to renounce allegiance to foreign princes and potentates (how they sulked afterwards!) and "to bear arms on behalf of the United States when required" (which is more than most natural-born citizens do) and even having pledged to "perform work of national importance under civilian direction" if required (I always hope it doesn't involve cleaning port-a-potties), I take umbrage at the idea that I might be pulled over for speeding in Pennsylvania and asked to show my papers, a la Nazi Germany or the old Soviet Union.
That it would be done by some local officer with no training in immigration work and whose idea of "reasonable suspicion" could easily be a questionable accent, and who might believe that my cricket equipment in the back seat is really a jai-alai set, is doubly offensive. A driver's license might not be enough to save me. Heck, the same bumptious officer may think the president of the United States is not a citizen, so general is the paranoia and the craziness.
Join the conversation: