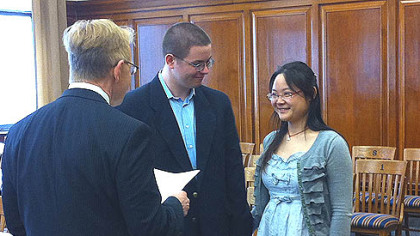 Paula Reed Ward has a nice story on a lucky couple trying to get married today . . . with the courts closed (for some reason) on election day:
Matthew Cooper and Xinyue Zong spent part of a break from their University of Pittsburgh finals roaming the empty halls of the City-County building Downtown trying to find a judge who might be able to marry them.
But courts are closed for Election Day.
The two graduate students -- Mr. Cooper, 25, who studies international development, and Ms. Zong, 25, who studies public administration -- struck out in several places.
But they lucked out when they stumbled upon election court on the seventh floor.
"We were lucky today," Ms. Zong said. " ... As we were sadly walking away, a man came out and said 'come here, come here.'"
Allegheny County Common Pleas Judge Edward J. Borkowski, assigned to handle any election matters that come up until 4 p.m. today was happy to perform the nuptials.
He estimates he's done more than a dozen ceremonies.
Just as the judge said, "The union you are about to enter is a solemn and sacred one," the phone rang in the courtroom about an election matter.
The ceremony took four minutes.
The couple plans to have a church wedding May 12 in Rhode Island, where Mr. Cooper is from.
After graduation -- Mr. Cooper defended his master's thesis this morning -- they plan to live in Boston, Pittsburgh or return to Ms. Zong's native China.