Mt. Lebanon attorney Bill Ward is leaving his job as Tom Corbett's chief of staff, reports Angela Couloumbis at the Inquirer, in the midst of political kvetching among Corbett allies. From the Inquirer this morning: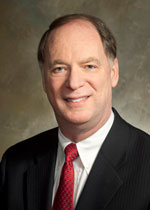 Ward's departure comes as the governor faces increasing pressure to address what some in top state Republican circles believe is a growing image problem. The Inquirer has reported that the governor's top political advisers, supporters and fund-raisers have been encouraging him to shake things up in his administration.
Next week, a small circle of heavyweights in the Republican Party known as the governor's "kitchen cabinet," plan to meet with Corbett in Harrisburg to push for changes to his top staff, according to four sources speaking on condition of anonymity.
Their quarrel is not over policy, but with what some senior state Republicans see as political clumsiness: an inability or unwillingness to sell his agenda and his successes to the public. At the same time, they say, Corbett has allowed a tense, and possibly dysfunctional relationship with the Republican-controlled legislature to fester.