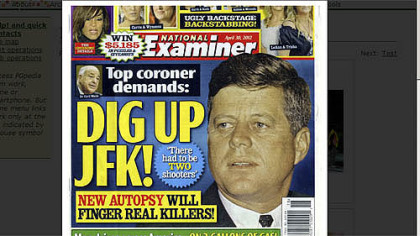 There is weirdness afoot, as usual, along the corridors of Grant Street. The latest concerns Cyril Wecht and, separately, the Orie/Melvin family versus DA Stephen A. Zappala Jr.
Wecht was surprised to hear he's on the cover of the supermarket tabloid National Examiner, despite the fact that he never talked to them about a JFK assassination story. Even though he would have if asked:
Dr. Wecht was more bemused than annoyed by his tabloid treatment and his sharing the cover with headlines proclaiming "COUNTRY MUSIC WARS!" "Man drives across America--ON 2 GALLONS OF GAS!" and "Whitney's DISTURBING AUTOPSY REPORT!"
"I've been in tabloids over the years, such as in the case of O.J. [Simpson] and JonBenet [Ramsey], but I don't know if I ever made the cover. I'm always willing to talk to them. I'm not going to be snooty."
Wecht would probably be more willing to talk to the tabloid than Zappala. In the latest twist in the ongoing Orie investigations -- which have included a grand jury investigation of Supreme Court Justice Joan Orie Melvin -- the DA is now reviewing a car crash by the justice's 24-year-old daughter for insurance fraud. During the corruption trial of state Sen. Jane Orie (the justice's sister) this spring, defense attorneys grilled Josh Dott, a Melvin aide and prosecution witness, over his relationship with the same daughter.