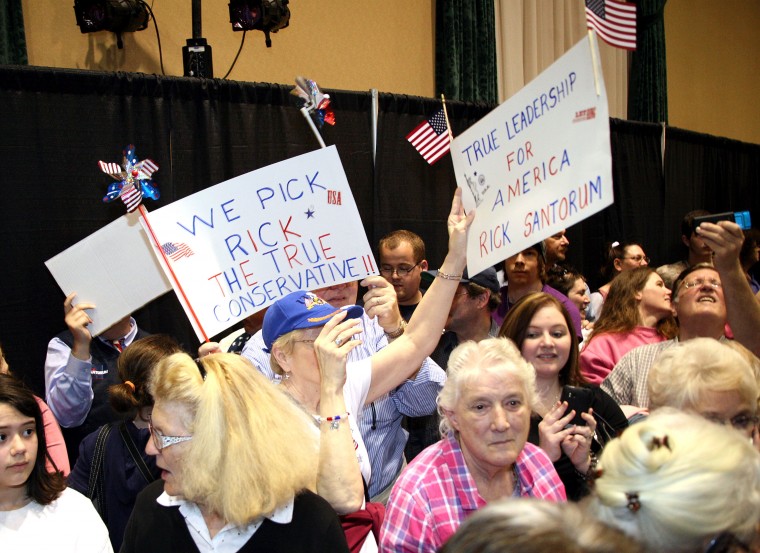 Photo: Bill Schwartz/Gettysburg Times
In his return to Pennsylvania while Mitt Romney is winning states and delegates, Rick Santorum is trying "to shift tactical and thematic perceptions of the Republican presidential nomination battle," write the P-G's Jim O'Toole and Karen Langley today.
Pa's April 24 primary offers a hefty 72 delegates but they're uncommitted -- even if Santorum wins his former state he'll have to see who wins the delegate races in the state's 18 congressional districts before knowing who the delegates will be. Some are Ron Paul supporters, some establishment names tied to Romney (like Allegheny County's GOP chair Jim Roddey) and others party officials from the "T" more sympathetic to the former senator.
For the first time we're getting indications that the Santorum team is reaching out to delegates in Pennsylvania, but in murky fashion. From the NYT's Kit Seelye:
By coming here Tuesday, Mr. Santorum could focus on trying to trying to persuade some of those uncommitted delegates to commit to his side.
"This will give him a chance to sit down around the table and say, 'Let's go through the list of who we've got lined up and who we have to go back to and revisit and work on,' " said one person close to the Santorum campaign who spoke on the condition that he not be identified. "There will be assignments from tonight, 'Go back to visit with people, talk to your guys,' and Rick will be reaching out to folks."